The Invaders
Classic Music of the British Invasion Bands and the Artists Who Inspired Them
What, you didn't read the heading? What more do you need to know?
Okay, Fine. If You Have to Know More...
The Invaders is a rock band that performs classic music of the "British Invasion" and the artists who inspired them. Hits from the 60's make up the majority of the band's repertoire. Not to be out shadowed, tunes from the late-50's also creep into the set list. The Beatles, The Rolling Stones, Chuck Berry, Elvis, The Who, The Kinks, The Beach Boys, The Searchers and The Monkees are just a few of the artists covered by the band. Members Jim Brown (vocals, lead guitar and keys), Mark Gruenenfelder (vocals, bass), John Orth (vocals, rhythm and lead guitar), and John Remy (drums, vocals) have all played in local and area bands for many years prior to forming in the winter of 2005. The band uses period gear wherever possible: it helps nail that 60's "Pop Combo" sound! With incredibly strong lead vocals, amazing harmonies, exceptional guitar work, and a driving rhythm section, The Invaders will have you out dancing and having a great time, while "Bringing back songs of the 60's Beat Invasion."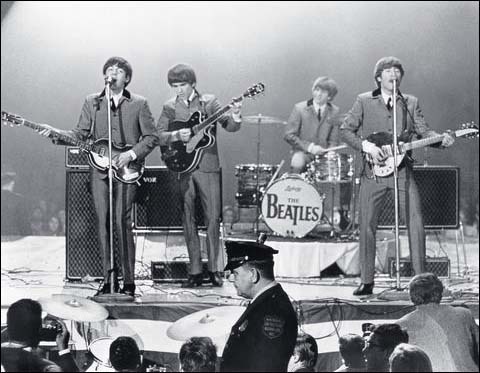 The Invaders - Marcine's, Blanchardville, WI, circa 2005.
Okay, so you don't believe that the above picture is The Invaders? Well neither is the one below.
Upcoming Shows:
Sunday, June 7 - Marcine's - Mt. Vernon, WI - 3:30-7:30
Saturday, June 20 - Blanchardville Fire Department Dance - Blanchardville, WI - 8:00-12:00
Sunday, August 2 - Marcine's - Mt. Vernon, WI - 3:30-7:30
Saturday, October 24 - Benefit for Sophia Sies (live music all day, see below) Schwoegler's Sugar River Lanes - Belleville, WI - 4:00-6:00